Nice, France, Nice!
Pun intended.
Lady Gaga, once again, was forced to change into a smaller venue due to serious lack of tickets sales. This time, in Nice, France (where Madonna played to a sold out crowd less than a month ago, on August 21st).
Lady Gaga's Born This Way Reductive High School Ball was scheduled to October 4th at the Charles Erhmann stadium (same place Madonna played in August). According to Live Nation, that show was moved into the Palais Nikaia.
The Charles Erhmann stadium has the capacity for 50,000 people. The Palais Nikaia, which has a 9,000 seat capacity.
To be fair, the Charles Erhmann stadium holds 50,000 in concerts if the stage structure is small or center-field located (like U2). Which is not the case here. Lady Gaga's structure is rather big in stadiums (not the stage itself, but its old-fashioned light and sound support structure). So the capacity for her show would be around 40,000 people. But she didn't even sell half that number of tickets.
That's why they transferred her concert to a smaller venue (9,000 people per night) and made it two (9,000 X 2 = 18,000). 18,000 is less than half of 40,000.
Such a desperate way of avoiding the fact that her shows are not as successful as the one and only Queen of Pop. Now, if she manages to sell out 9,000 tickets, she will have "sold out" splashed on her touring report, and not -50% attendance as it should be.
Madonna and her MDNA Tour, whose stage is bigger and takes more space in the field (and on the back and side views), played to a sold out crowd on August 21, 2012. Check one thing:
There are no "empty spots" of people in her show in Nice:
Madonna in Nice, August 21, 2012
I wonder if Lady Gaga will be forced to change venues in Paris, as well. You know, she was already selling her tickets with a 70% discount for the Stade de France concert. I am not aware if this desperate attempt at selling out a stadium worked.
It surely did NOT work well in London. There, her tickets were being sold in the previous weeks  60% off:
But, hey! When it doesn't work, what do they do? They lie! Remember her "sold out" nights in London?
Here's a picture of Lady Gaga's second "sold out" show at the Twickenham stadium:
In comparison, here's a picture of Madonna's second sold out night at the Yankee Stadium in New York City: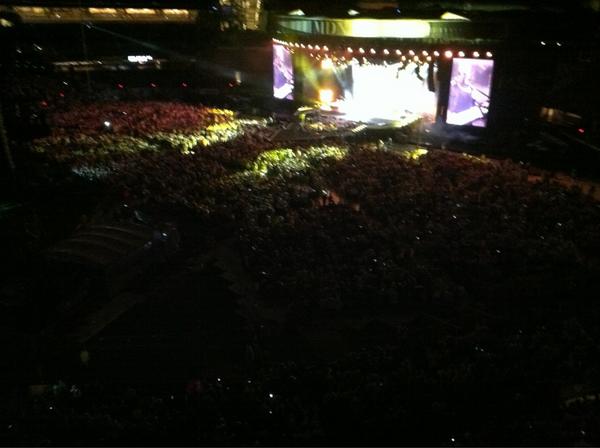 OBS: Before anyone says the Lady Gaga London concert picture was taken before the show started, here's a video: 
On a side note: is that how her crowd reacts when she plays an "old hit"? The song that changed her "fucking life"? LOL. I'm cringing here.
You want to know how an entire stadium reacts when Madonna plays an old hit? A song that, I assume, changed her life? After all, "Holiday" was Madonna's first classic:  
Source: Le Parisien